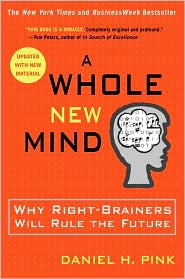 Last week I finished Daniel E. Pink's A Whole New Mind: Why Right-Brainers Will Rule the Future.  Great read full of good analysis, helpful illustrations (not just stories, but pictures, too!), and practical suggestions for developing your right brain abilities.  This book has been on the shelf for a few years, but it contains the type of stuff that was never talked about in seminary, and thus, for me, was exciting, informative, and suggestive.  There is plenty of stuff in here that I think could be utilized by any church leader, especially since church leadership demands employment of our creative capacities.
Here are Pink's "Six Senses" of right brain thinking that he believes will define the future:
Design
Story
Symphony
Empathy
Play
Meaning
I never considered myself a right-brain person growing up.  Maybe it was just me.  But over the past few years my ministry has demanded that I employ right brain capacities.  I've had to tell stories, design experiences, put together devotional guides using creative tools (writing, layout design, images, etc.), paint a big picture for people as I've exercised leadership (symphony), employed empathy in understanding the people I lead, played alongside children, students, and other adults leaders, and helped groups derive shared meaning.  I've been doing this right brained stuff.
The church is pegged as being a left-brained institution with a very left-brained discourse.  We have a chance to redefine that stuff.  Logic will continue to be important, but this right brain stuff cannot be denied.  We need a whole new mind.  And this means reclaiming the right brain and doing some cool, creative stuff.