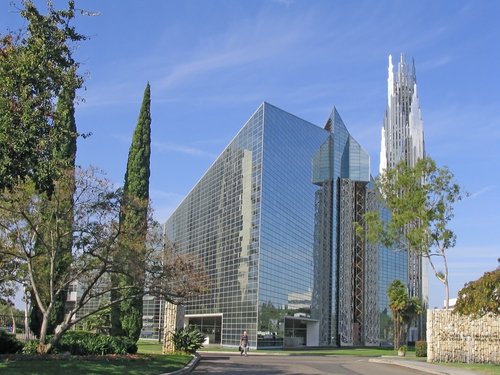 In a somewhat surprising headliner at FoxNews.com, the Associated Press is reporting that Robert Schuller the elder is removing his son from the pulpit at the famed Crystal Cathedral in Garden Grove, California.  You can read the story here.
The Crystal Cathedral and the "Hour of Power" program are incredibly well known.  The church has an extremely large membership and their television ministry has expanded their influence.  Schuller has made his mark as a friendly, warm personality who's preaching commonly included uplifting and affirming messages.  Under his leadership, the Crystal Cathedral intentionally remained light on theological or churchy language.  This philosophy was carried forth in many corners of the church growth movement.
Though the reason cited by Schuller Sr. was a disagreement on vision, I wonder if it had anything to do with doctrine.